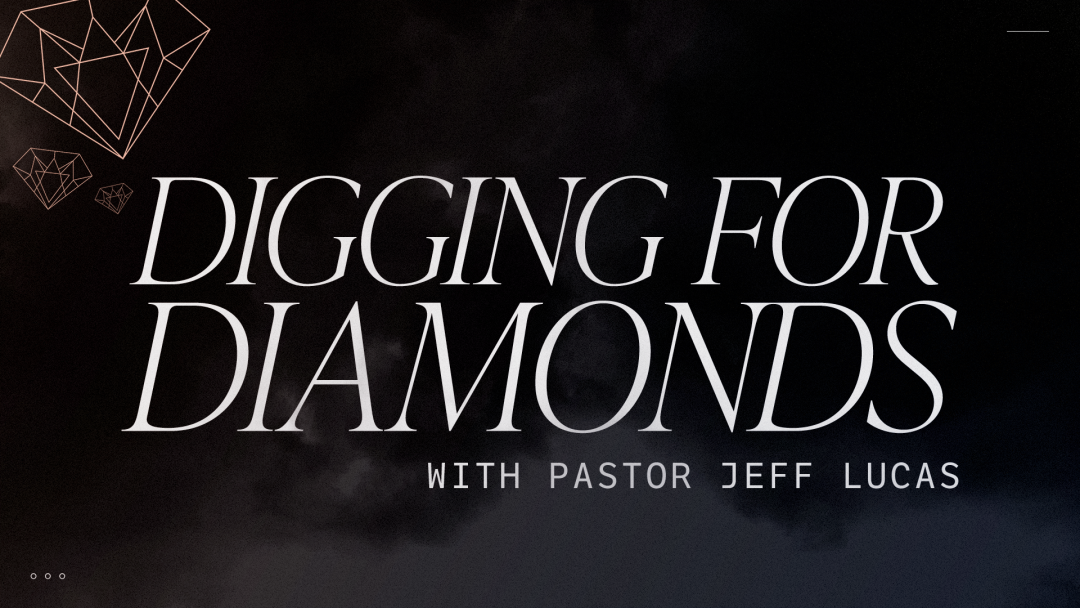 Jump to Each Week:
---
Week 1

Let's Get Spiritual...
Here's a statement that might cause a reaction: God is not interested in helping any of us to become more "spiritual" — at least in the way that most use that word. Rather, He wants us to become healthier, more rounded human beings. Which of course includes the "spiritual" dimension in our relationship with God, but is not limited to it. If you could travel back in a time capsule and ask the Hebrews how they found time for their "spiritual life," they would look at you with some confusion because the Hebrew Scriptures contain no word for "spiritual." Jesus didn't use the term "spiritual life." That's not because he didn't see activities like prayer, solitude, and fasting as vital disciplines, but because he took a more typical Hebrew, holistic view, viewing the whole of life as spiritual. Spirituality is not a compartment of life, but an understanding that every part of life is lived under God's view and interest. He is not more impressed when we are praying as opposed to enjoying a round of golf. And we are not just to be consumed with church activities, but rather see ourselves as agents of the kingdom of God wherever we are 24/7.
When we fail to see this big picture, holistic view of spirituality, we can end up being good at prayer, but rude and lacking in listening skills when we meet others; diligent is fasting, but can be carping, irritating people who aren't likely to be invited to share many times of feasting….
Let's live all of our lives as an offering to our amazing Jesus!?
Week 2

Respond, Don't React
As followers of Jesus, we all want to make daily decisions that please and honor God. Our lives are the sum of thousands of small decisions — moral choices, decisions about careers, relationships, involvement in the local church, where we live, our approach to self-care and health…the list is endless.
But in his letter, James is cautioning us against making hasty key decisions. Simply put, he is calling those who have "given their lives to Jesus" to make sure that we don't slowly, gradually, and even unconsciously take them back into our own hands again. We have made Jesus our Lord as well as our Savior, and we want to be those who live intentionally to obey Him and fulfill His purposes for our lives.
But does that mean that we should never plan?
Let's take a closer look at what James has to say:
Now listen, you who say, "Today or tomorrow we will go to this or that city. We will spend a year there. We will buy and sell and make money." You don't even know what will happen tomorrow. What is your life? It is a mist that appears for a little while. Then it disappears. Instead, you should say, "If it pleases the Lord, we will live and do this or that." (James 4:13–15)
First of all, James reminds us of the brevity of life: it is like a morning mist, here and then gone in a moment. With so little time, we want to make the most of every day, willingly placing ourselves at God's disposal.
But while James is against thoughtless, prayerless planning, he is not against planning altogether. Note carefully his words, "Instead, you should say, 'If it pleases the Lord, we will live and do this or that.'
He doesn't remove provisional planning at all. "We will live and do this or that," but rather calls us to preface "in principle" planning with a determination to first and foremost fulfill God's will for our lives.
One commentator remarks:
"James is not trying to banish planning from our lives, but only that sort of self-sufficient, self-important planning that keeps God for Sunday but looks on Monday to Saturday as mine."
Kent Hughes says, "We are such children of our times that we cannot conceive it would ever be God's will that we not become rich and prosperous. Sadly, we have often advised our children the same way: "Be sure you get into a profession where you will make a good living, son, so you won't have to struggle like I did." Some have even objected to their children going into Christian work because it is not lucrative. Despite Christian trappings and evangelical nods, we often live without serious reference to God's will. This is practical atheism."
When we approach decision-making carefully and prayerfully, submitting our plans to the Lord, we respond rather than hastily react. There have been a few times in my life when I wish I'd slowed down before making a jump!
Sources:
[1] Motyer, J. A. (1985). The message of James: the tests of faith (p. 161). Inter-Varsity Press.
[2] Hughes, R. K. (1991). James: faith that works (p. 203). Crossway Books.
Week 3

Stay Awake
It's confession time. As a teenager, I was a sergeant in the Army Cadet Force. We went on three-day military exercises where we would spend 72 hours out in the open fields, fighting mock battles with guns loaded with blank ammunition. Our nights were spent in trenches, and we had to take sentry duty through the long, dark hours. It was exhausting. I got about 30 minutes into my two-hour shift and then decided that I just couldn't stay awake any longer. So picked on the hapless youth who didn't have a watch and told him it was his turn to stand guard. Overwhelming sleepiness nudged me into making that selfish decision.
The Bible is loaded with several instances of encouragement to us to be alert, awake, watching, and vigilant. The first epistle of Peter repeats the call to alertness no less than three times (1 Peter 1:13, 4:7, 5:8). Perhaps Peter was stung by the memory of Gethsemane when he and the other disciples succumbed to sleep when Jesus called them to watch and pray with Him.
Passion is not about being impetuous, but rather about being intentional, steady, fully engaged, and mindful in the decisions that we make. And it means that while we are not obsessed with spiritual warfare, we live fully conscious that we too are in a battle, one that is very real — unlike the soldier games I used to play.
Paul writes, "So then, let us not be like others, who are asleep, but let us be awake and sober." (1 Thessalonians 5: 6)
A California-based coffee company has the slogan. "Life is short. Stay awake for it." Amen to that.
Week 4

The Divine Supermarket
During the trips that Kay and I lead to the Holy Land, we often visit the amazing ancient site of Caesarea Philippi. There, you'll find the ruins of an ancient temple site which the guides like to refer to as the "supermarket of the gods," because it was a place where you could worship the god of your choice. One of the most popular choices was Pan, the god of fear, from which we get our word "panic." But if Pan didn't help you out, you could just make another selection. At the site is a cave that was known in ancient times as "the gate of hell," and in that cave is a rock — a place where perhaps human sacrifices were offered. It's amazing that Jesus took His disciples to that very location to put the vital question to them, "Who do you say that I am?" We read about that day in Mark 8. He also used the site as a visual, experiential aid to his teaching, affirming that there was a rock of truth that Peter would preach, and that "the gates of hell" wouldn't be able to overcome that truth — His authority and power were over all. In a supermarket of idols, He was nudging them to see empty shelves and place Him alone as the Son of the Living God.
In a day when vague spirituality is in fashion, we live in a supermarket of gods too. The temptation is to believe that following any of them will lead us to a rock-like foundation of truth for our lives. But Jesus claims exclusivity, and He calls us to make our choice about Him. Not once, but daily, as we determine to follow Him. Let's choose well.