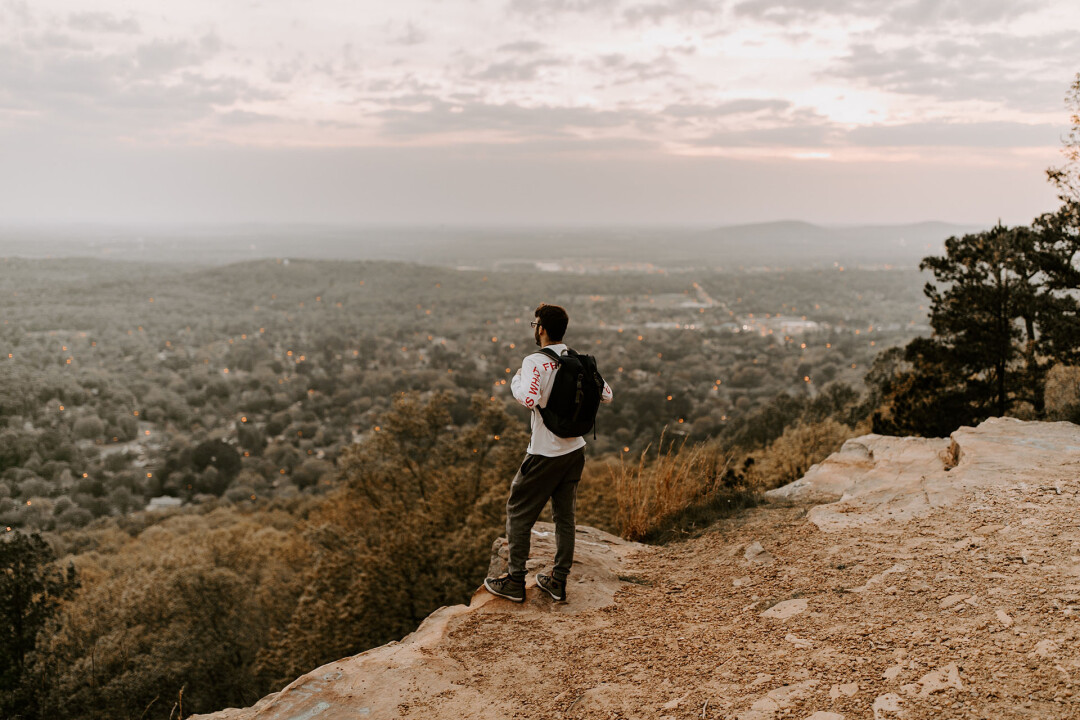 Contentment can be an elusive concept, can't it? What is it exactly?
In 2014 a group of researchers climbed the Himalayas to a previously unreached group of people in a remote village of about two-hundred families. The purpose of their visit was to determine if human emotions are universal across all cultures, emotions like sadness, surprise, anger, fear. The villagers were shown pictures of people with different facial expressions depicting these emotions. Surprisingly, the villagers were able to recognize the majority of the emotions that were displayed with high accuracy, all except for one emotion—contentment.
The guide on the trip, Dr. Dorji Wangchuk, said, "It's hard to translate it exactly, but the closest word in their language to contentment is chokkshay, which is a very deep and spiritual word that means the knowledge of enough. It basically means that right here, right now, everything is perfect as it is, regardless of what you are experiencing outside."
I like that…the knowledge of enough.
John D. Rockefeller, the famous oil man of the late 1800s, apparently didn't come to that realization. When once asked the question, "How much money is enough money," he famously replied, "Just a little bit more." At the time, Rockefeller owned ninety percent of Standard Oil and his wealth was so vast that it equaled one percent of the entire US economy. Rockefeller's statement exemplifies the fact that our flesh is never truly satisfied. It's part of our sin nature, where our discontent fuels an insatiable desire for more.
This, of course, flies in the face of what the Apostle Paul wrote to the church of Philippi:
"I am not saying this because I am in need, for I have learned to be content whatever the circumstances. I know what it is to be in need, and I know what it is to have plenty. I have learned the secret of being content in any and every situation, whether well fed or hungry, whether living in plenty or in want. I can do all this through him who gives me strength." Philippians 4:11-13
Keep in mind Paul is writing this letter from a Roman prison cell. For those of you who might be new to the Apostle Paul, he was a guy who wrote almost half of the books in the New Testament, And before he was Paul he was Saul, a by-the-book, hard-nosed guy, a stickler for all that went into being a Pharisee, which was one of the highest orders in the Jewish tradition. He was well to do and well respected. He went around capturing Christians and throwing them into prison, witnessing their deaths by stoning. A real wonderful, upstanding guy.
But he had a come-to-Jesus moment one day that completely changed his life. And afterwards became a very vocal, passionate follower of Jesus. In this verse, he reminds us that contentment happens despite our circumstances. It is an internal state of being.
The writer of the famous hymn "It Is Well," Horatio Spafford, experienced a testing of contentment firsthand. In 1871 he was a lawyer who lived in Chicago with his wife Anna and their four daughters. On October 8,1871 the Great Chicago Fire happened. For two days the fire ravaged the city. Over three-hundred people died, one-hundred-thousand people were left homeless and the property damage totaled over two-hundred-million dollars.
Spafford, who had extensive real estate holdings in the city, lost it all. In 1873 Spafford's economic interests were further hit by a financial downturn. Feeling the need to get away he arranged for him and his family to board a ship to England and help the evangelist D. L. Moody with his ministry campaign there. Just prior to leaving, Horatio was called back to deal with some business, but he sent his wife and daughters ahead on the ship with the intention of catching up with them in England.
About a week later, the ship they were on collided with another ship in the early morning hours and sank into the Atlantic. Two-hundred-twenty-six people died, including the Spaffords' four daughters. Anna survived the accident and was rescued by another ship that took her to Wales. There she sent a telegram to Horatio that said, "Saved alone…what shall I do?"
Shortly afterwards Horatio boarded a ship to be with his wife. And as he traveled on the Atlantic the captain of the ship called for him and said, "this is the spot where the collision happened, and where your daughters died." Horatio used that incident to pen the words, "It is well with my soul."
Horatio and Anna show us through this song that contentment happens despite our circumstances. But it is something that must be learned because it doesn't come naturally to any of us. When you learn something, you're changing the way you think.
And that's exactly what Paul tells us in another letter that he writes to the church in Rome:
"Do not conform any longer to the patterns of this world, but be transformed by the renewing of your mind." Romans 12:2
This transforming of our minds also reminds us we don't need more to be happy.
Author and Pastor John Mark Comer says,
"Contentment is a soul-level satisfaction where you are grateful for what is rather than grasping for more."
This leads to what Comer describes as "disciplined desire." It's okay to desire things. What's not okay is what we attach to those desires. If we think that having, fill in the blank, will bring about fulfillment in our lives, that fulfillment will be short lived.
As I have pondered gaining contentment in my own life, I have become aware of a couple of ingredients that can help one live more contently.
The first is to simply practice gratitude; being mindful that anything we have is only because it is a gift from God. Acknowledging this and giving thanks for the things we have helps us to focus less on what we don't have. The nugget here is realizing contentment is a byproduct of gratitude.
Another thing to consider: What story is your life writing? People around you are reading you. They are watching how your life is playing out. What would the people closest to you say about you? Would they say that you're a contented person? Or are you better known for grumbling about the things you don't have?
As your story is unfolding, do you want to be known as someone who is constantly striving for more and more? Do you want to be known as a person who is unhappy? Or someone who is thankful for the many blessings in your life.
Here's a little homework for you to do. This week, every single day, write down one thing that you're thankful for. Let's see if in a week you feel more content and at peace with the present.
Finally, grow yourself instead of your empire. We get so caught up in our fast-paced world, with the desire to advance in our jobs or growing our bank accounts. We get so focused on these earthly things, that we neglect the eternal things, like love, joy, peace, patience, kindness, goodness, faithfulness, gentleness and self-control. You know—the Fruit of the Spirit. Are those traits becoming more evident in your life?
I believe that if they are, you will find more contentment and dwell in the knowledge of enough.
---
Want to stay up to date with the latest blog posts?
Subscribe here!
---