Tyler & Shannon Williams - Fort Collins, Colorado USA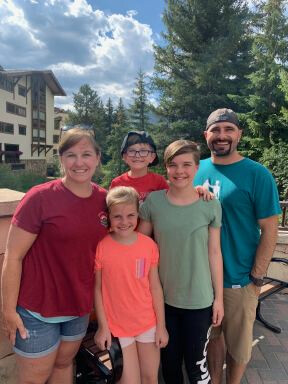 Tyler & Shannon Williams - FORT COLLINS, COLORADO USA (CRU) Tyler and Shannon Williams are missionaries with CRU where they have served since 2003. They have been blessed to be able to spend the best years of their lives reaching college students. They have served for year long stints overseas in Cape Town, South Africa and Madrid, Spain. They have spent the majority of ministry years with the Cru Campus ministry at Colorado State University and the University of Colorado. Recently they've been working with Valor, Cru's ministry to ROTC cadets and midshipmen at schools across Colorado and into Wyoming, raising up a generation of leaders who will live out their faith in college, as they serve in active duty, and for the rest of their lives no matter where the Lord leads them.
They were married in August of 2003, and have 3 unbelievable kids! Lacy was born in October of 2007 and she is the dramatic one in the family. She loves singing, dancing, and performing. Katelyn was born in April of 2010 and she is a passionate little girl. Katelyn cares deeply about many things, including mac 'n cheese and their dog Stellie. Parker was born in May of 2014 and is one of the most smiley kids you'll ever meet.
In addition to Shannon's important ministry at home to her kids, She runs operations nationally for Valor. Her heart is that ROTC women become disciple-makers themselves and so Shannon is multiplying her ministry as they reach their friends on campus and wherever the Lord leads them after they graduate.
Tyler has had many focuses of ministry over the years, from leading an international partnership in South Africa to spending weekly time in discipleship with college students, he has always loved his job! Currently, Tyler is helping to equip, coach, and resource students to reach their fellow cadets and midshipmen at over 20 universities across the states of Colorado and Wyoming. He is passionate about building deep gospel centered relationships that will enable us to reach every ROTC student and active military person in the United States with the Gospel.
They can't thank God enough for allowing them to get to do what they do and are thrilled to be able to invest their lives in college students who will impact the world for the Kingdom. It is a cause worthy of their lives and the reason they have entitled their website "Taking Faith". For the rest of their lives they want to be taking steps of faith in order to take the Gospel (faith) to the world.
To send a note of encouragement to Tyler and Shannon, click the button below.
Back to Missionaries