Rick Christopherson - Fort Collins, Colorado USA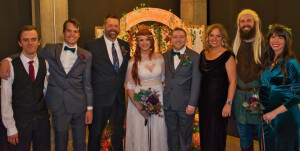 Rick Christopherson - FORT COLLINS, COLORADO USA. Rick Christopherson serves the first responders in our local community as a chaplain with the Sheriff's Department, Larimer County SWAT team, and more recently the Poudre Fire Authority.
RMCC serves first responders as a spiritual advisor and simply being present during regular trainings and riding along in everyday operations so he can build real relationships that matter. Thus, when a critical incident occurs with a first responder, he is trusted and they know he is there for them in this time of need. Chaplain Rick understands the jobs these men and women preform and carries a non-judgment policy and serves anyone who asks for his assistance.

Chaplain Rick has been involved with deputies who have been in officer Involved shootings and other critical incidents that led to the death or injury of a person. With clergy confidentiality laws supporting chaplains and clergy, Chaplain Rick was/is able to accompany these deputies along their journey in these critical incidents. Law Enforcements officers are isolated and other than their lawyers are not allowed to speak to anyone. Even though they might be justified in their actions, until they are "cleared" they are isolated... except for their chaplain.

Chaplain Rick has officiated many weddings, funerals, and child dedications for first responders. He has advised in marriage counseling and has walked alongside of those who have made mistakes and were given consequences for their actions. Chaplain Rick has assisted Law Enforcement Officers in natural disasters and has also helped the Victim Response Units with victims of suicides. Chaplain Rick is a training resource used in many active shooter trainings, citizens' academies and mini-academies for field training for new deputies.
Fighting Human Trafficking:
You would be amazed that slavery is still an issue in our world..... in our country... in our community. Sex slavery is one of the top three organized crimes. Drugs, illegal guns and sex/labor slaves are the scurge of our world. RMCC is dedicated to education and action to stop human slavery and show the value these victims have as people living in our world today. We partner with local communities, secular & faith based organizations, and law enforcement. Lisa (Chaplain Rick's wife) focuses on global human trafficking by assisting organizations fighting human trafficking in Europe and Asia. RMCC desires to make a difference.
To send a note of encouragement to Rick, click the button below.
Back to Missionaries