Nicky & Janie Rider — Mexico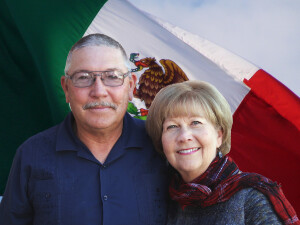 CHIHUAHUA, MEXICO — Nicky and Janie live in the city of Chihuahua Mexico. They returned "home" July 2017 to continue the ministry of hosting ministry teams. They work with ministries that bring transformation, deliverance, recovery & reconciliation meeting the unique physical and spiritual needs of this gathering of people nurturing disciples through the Word, establishing solid foundations of active faith with a vision to proclaim the world "New Life" through the gospel of Jesus Christ.
Luke 4:18 - "The Spirit of the Lord is upon Me, Because He has anointed Me To preach the gospel to the poor; He has sent Me to heal the brokenhearted, To proclaim liberty to the captives And recovery of sight to the blind, To set at liberty those who are oppressed. They have many building projects in both the state of Chihuahua as well as in the Yucatan Peninsula aka Cancun. If you are interested in bringing a team down or would like to get connected with one of our existing teams, please feel free to email us.
Our mission: "In God's Power and Love Touch, Reach and Impact the World."
To send a note of encouragement to Nicky and Janie, click the button below.
Back to Missionaries