Joel & Amy Slater — Malawi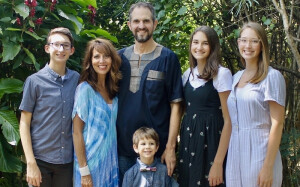 MALAWI — Joel and Amy serve in Malawi and are working as pastoral trainers. Their goal is to raise up Spirit-empowered, biblically trained men and women to reach every corner of the African continent, teach at the diploma level in the Bible school, and help establish base camps from which to send greater numbers of ministers and missionaries to unreached people groups.
Joel and Amy have spent 19 years in pastoral ministry ranging from early childhood education to youth ministry, Master's Commission, adult education/discipleship, congregational care, and small group development. In those 19 years, they have participated in multiple missions trips to multiple nations in Central America, Ethiopia, and Uganda.
Joel and Amy have four children: Sydney-(16), Brooklyn-(14), Jackson-(12) and Jasper-(3).
To send a note of encouragement to Joel and Amy, click the button below.
Back to Missionaries