Christian & Taylor Aragon - Greeley, Colorado USA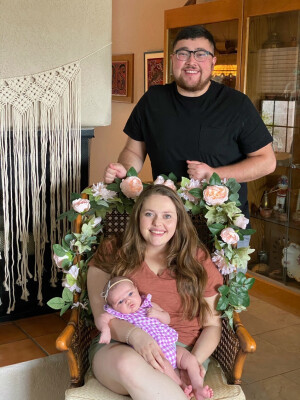 Christian & Taylor Aragon - GREELEY, COLORADO USA Christian and Taylor grew up in separate parts of the country- Christian in New Mexico and Taylor in Georgia- but they both ended up at New Mexico State University for college! They were very involved in Cru and during school, which stirred their separate desires to do ministry in the future.
Christian got involved in a freshmen bible study through Cru when he first started at NMSU. Not only did he find a community of friends in Cru, he learned about what it meant to really have a relationship with Jesus. He was mentored and discipled by an older student in Cru and realized that he had a passion for teaching other guys like him who came into college about the Gospel. He spent his last year of school doing part-time staff with Cru, where the Lord blessed him with an even bigger desire to fulfill His great commission.
Taylor also got involved with Cru as a student and was a very active leader in the movement at NMSU. She went on a summer mission trip with Cru to Cote d'Ivoire, West Africa where her heart broke for the students there, but was even more broken for the students she was around everyday at her own campus. After graduation, she was indecisive about interning with Cru or working a job in her major. She spent the last year doing PR for NMSU and working part-time with Cru. Throughout the last year the Lord made it very clear that her passion for communications and missions can be mixed! Her job would be on campus but also using her skills in marketing and communications to reach students all over.
With much prayer and consideration, they decided to join full-time staff with Cru and were placed at the University of Northern Colorado in Greeley, Colorado! Their desire is to reach every student on every campus for the gospel of Jesus.
We are so thankful to influence the lives of students and fulfill the great commission!
"Go therefore and make disciples of all nations, baptizing them in the name of the Father and of the Son and of the Holy Spirit, teaching them to observe all that I have commanded you. And behold, I am with you always to the end of the age." Matthew 28:19-20
To send a note of encouragement to Christian and Taylor , click the button below.
Back to Missionaries